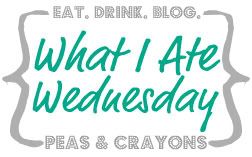 This week for
WIAW
I figured I would focus on what Toby eats during the week before the big
Binge day.
As you all saw last week, this is clearly his favorite day of the week since he eats uber healthy for the rest of the week. For him, this includes lots of quinoa,lean meat ( bison,turkey) and veggies.
My husband also has a eating quirk that I wish I had. Actually, maybe it is me that has the quirk? He has eaten the same week's worth of meals for three weeks now. He has no desire to switch it up and is perfectly happy eating the same thing all the time. It would be a lot easier for me to do that, but quite frankly I get sick of foods very easily. No way could I eat the same leftovers more than three times in a week. Then again, if I ate the same thing all the time I wouldn't have a food blog. Anyway ,here is the
website
he plans his meals on in case you are interested in looking. They are all really simple and might I add,tasty.
What Toby Ate yesterday: Bison.eggs.salad.quinoa.protein cake
Let's do a quick WIAW recap of what he ate yesterday:
Sunflower seeds + Flax =healthy fats!
Breakfast
: Ground Bison & Egg Whites
Lunch:
Salad with grilled chicken
Snack:
Cinnamon swirl protein bread ( AMAZING) & sunflower seeds + flax seeds
Dinner:
Turkey Meat Muffins( pictured below) with quinoa
Here is Toby's go to recipe for Meat Muffins. He loves them.You can add veggies to these and I think it would be delicious. Also if you want to add in some fat add some low fat cheese. They are already proportioned so it is easy to not over eat. Despite the turkey being 99% fat free, it is actually really tender. He usually eats these with Quinoa and veggies. It makes a ton so he takes them for lunch all week!
Meat Muffins

Ingredients
Directions:
Preheat oven at 325 degrees.
Spray 2 muffin tins with nonstick spray or oil
Mix all ingredients in a bowl (using your hands works best).
Cook at 325 degrees for 22 minutes.
This recipe makes about two dozen turkey muffins. They're great to take to work for lunch and can be combined with salad, quinoa, brown rice, or veggies for an easy and healthy dinner.
Three muffins make one serving. Each serving contains 2 grams of carbs, 2 grams of fiber, 30 grams of protein, and 263 calories.