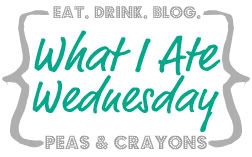 Horray! It is Wednesday. I have been waiting all week to post for #WIAW. For those of you who don't know what WIAW ( What I Ate Wednesday) is get ready to get educated. Basically it is a blog party that is happening at the Blog
Peas & Crayons
. It gives blog authors a chance to tell everyone what they have been eating( since I know you are all dying to know.) Here are some of the things I ate Tuesday and Wednesday.
Buff Chick Mac & Cheese.popcorn. Morning coffee.PB.Baked chips & Salsa
Breakfast
I woke up starving today. I decided to trade in time to make and eat breakfast in order to sleep fifteen more minutes and cuddle with Toby. I am a sucker for cuddling. I packed half of a whole wheat pita and some chunky natural peanut butter ( peanut butter pictured when it was all gone- hey I forgot to take a picture ) to eat when I got to work. I also had my morning cup of joe. Thank you Woolfgang Puck for making Hazelnut Kona in K cup form.
Lunch:
I ate a grilled cheese on wheat with tomato and sweet potato & chipotle soup ( the only thing my work's cafeteria does right.)Warm,sweet, and spicy. YUM. Grilled cheese's cheese was not melted all the way. Epic Fail. Not worth the calories.
Snack:
Since I couldn't wait for dinner and I was starving before I left work I ate an awesome braeburn apple we just bought at Whole Foods. I hate soft apples so this one did the trick.
Dinner:
I had made a buffalo chicken mac and cheese last week and froze it for when I didn't feel like cooking. Check. I defrosted it all day and popped it in the oven for 20 minutes at 400. Hot sauce, blue cheese, panko bread crumbs and elbows. YESSSSS (Tom, I truly am sorry I did not bring in the leftovers for you.)
Snacks:
I was SO hungry when I got home from spin Tuesday I ate baked chips from "Garden of Eaten" and salsa from Whole Foods." Might I add.. when I was at Whole Foods Monday night they had a gelato case! I was so excited. They had a balsamic and olive oil gelato. I had to try it. It was so good! It almost tasted like balsamic reduction. That being said, I tried some of that, and bought a kiddie cup of hazelnut.
Incase you want the recipe for the buffalo chicken mac and cheese here is the recipe from the
Food Network!!
I love buffalo flavored anything and adding it to Mac & Cheese makes it so much better!!!
Buff Chick Mac & Cheese- Honestly, it's not the best pic, but it tasted so good.
Yields 6-8 servings
Ingredients
7 tablespoons

unsalted butter

, plus more for the dish
Kosher salt
1 pound elbow macaroni
1 small onion, finely chopped
2 stalks celery, finely chopped
3 cups shredded

rotisserie chicken

2

cloves garlic

, minced
3/4 cup hot sauce (preferably Frank's)
2 tablespoons

all-purpose flour

2 teaspoons dry mustard
2 1/2 cups half-and-half
1 pound yellow sharp

cheddar cheese

, cut into 1-inch cubes (about 3 1/2 cups)
8 ounces pepper

jack cheese

, shredded (about 2 cups)
2/3 cup sour cream
1 cup panko (Japanese

breadcrumbs

)
1/2 cup crumbled blue cheese
2 tablespoons chopped fresh parsley
Directions
Preheat the oven to 350 degrees F and butter a 9-by-13-inch
baking dish
. Bring a large pot of salted water to a boil; add the pasta and cook until al dente, about 7 minutes. Drain.
Meanwhile, melt 3 tablespoons butter in a large skillet over medium heat. Add the onion and celery and cook until soft, about 5 minutes. Stir in the chicken and garlic and cook 2 minutes, then add 1/2 cup hot sauce and simmer until slightly thickened, about 1 more minute.
Melt 2 tablespoons butter in a
saucepan
over medium heat. Stir in the flour and mustard with a wooden spoon until smooth. Whisk in the half-and-half, then add the remaining 1/4 cup hot sauce and stir until thick, about 2 minutes. Whisk in the cheddar and pepper jack cheeses, then whisk in the
sour cream
until smooth.
Spread half of the macaroni in the prepared baking dish, then top with the chicken mixture and the remaining macaroni. Pour the cheese sauce evenly on top.
Put the remaining 2 tablespoons butter in a medium microwave-safe bowl and microwave until melted. Stir in the panko,
blue cheese
and parsley. Sprinkle over the macaroni and bake until bubbly, 30 to 40 minutes. Let rest 10 minutes before serving.
I could not wait to dig in!!