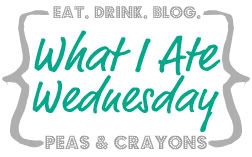 I decided to focus my WIAW post this week on my recent trip to what could be one of my new most favorite places on the planet- Eataly. Sadly, I probably ate as much in this one three hour trip as I would in an entire day so trust me when I tell you, I have plenty to talk about.
When Katie and I walked up to the doors of Eataly, my heart may have skipped a beat. We walked in to a bustling eatery that was filled with foodies just like me!Eataly is a place where you can do your grocery shopping while drinking wine (there no better way to shop) or eat a quick bite at one of their themed eateries. Just a tip when checking out this place: I would take a look around before you decide on what to do first. We spent three hours at Eataly and I am sure we didn't see everything. I actually would like to go there during the week and spend the entire day. A girl can dream.
First we browsed the fresh pasta cases and then the pasta restaurant. Everything at Eataly was very well priced ( including groceries, food, and wine.) We then made our way to the piazza to sample some wine. We decided to "splurge" and get the $2 cheese pairing with the wine we got. What a deal. While we were munching away we ordered a plate of prosciutto,fresh mozzarella and bread. This was a highlight. Do not miss out on this mozzarella. This was like no other cheese I have ever eaten. It was spongy and creamy and amazing.Not to discount the prosciutto though- it was amazing also.
We put our name in at the rooftop brewery and walked around to grab another glass of wine. This station was also selling small bites so I couldn't very well say no. I had fried risotto balls stuffed with mozzarella. Oh My God. These were amazing. First off, they make them fresh to order. Secondly, for three large risotto balls it cost$6. Are they serious? I should have gotten two more orders.
We then made our way to the rooftop bar, where they brew their own beer and serve amazing food. If you come in the summer make your way to this brewery. The ceiling opens to an open air eatery. We split an amazing portabello mushroom with balsamic glaze and sauteed veggies.
We finished our day of eating with a stop by the dessert case. We split gelato and pana cotta with salted caramel and strussel topping. Best dessert ever. Eat dessert here. Please.
So that was our WIAW edition of a day chock-full of eating. Thank you Mario Batali and Joe Bastianich, for my new favorite foodie mecca.